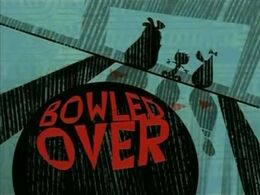 Bowled Over
is the first episode of season one of Spliced. It is the first episode overall.
Peri wants to find out what he's good at. He and Entree find a secret bowling rook and they both find out that Peri is really good at bowling. However Peri takes his talent too far when he tries to use bowling to do everything else in his everyday life.
Ad blocker interference detected!
Wikia is a free-to-use site that makes money from advertising. We have a modified experience for viewers using ad blockers

Wikia is not accessible if you've made further modifications. Remove the custom ad blocker rule(s) and the page will load as expected.